In January 1889, Franz Joseph I, Emperor of the Austro-Hungarian Empire, and his wife Elisabeth, were holding a dinner party at the hunting lodge Mayerling. In attendance was their son, 30-year-old Prince Rudolf, heir apparent to the Austro-Hungarian Empire, and his mistress, 17-year-old Baroness Mary Vetsera.
On January 30, the prince's valet went to wake him for a day of shooting with friends. He found the door locked from the inside. The valet received no reply to his calls, and shouts from other guests yielded similar results. Finally, they broke down the door. Inside the chamber, they found Rudolf at the side of his bed–dead, bleeding from the mouth. Mary's lifeless body lay on the bed beside him.
The event became known by a title worthy of Sherlock Holmes: The Mayerling Incident.
More than a century later, details of the incident remain unclear. Rudolf was said to have been poisoned; others say he was shot. (Bleeding from the mouth was a possible effect of strychnine.) Members of the royal family allegedly hushed up investigations. It was believed to be a murder-suicide, a double-suicide pact, or an assassination by persons unknown. The first official police report was that Rudolf had a heart attack. A revised report said that the crown prince had shot his mistress before turning the gun on himself. There were (much-disputed) reports that the incident was preceded by a violent argument between Rudolf and the Emperor, in which Franz Joseph demanded that Rudolf end his affair with Mary.
The baroness was buried quickly, secretly, and without official inquiry in a graveyard at Heiligenkreuz Abbey in Lower Austria. Not even her mother was permitted to attend. In 1955, authorities discovered that Mary's grave had been broken into, possibly by looters. Physician Gerd Holler examined the remains and found no evidence of a bullet hole. He suggested that Mary's death was an accident, perhaps a botched abortion, that prompted Rudolf's suicide. The body was reinterred, only to be reexamined in the 1990s, when Helmut Flatzelsteiner, a furniture dealer with a deep interest in the Mayerling incident, performed a private examination. The remains were confirmed as Mary's, but the skull was incomplete and disintegrating. Because of this, a suggestion that Mary had been shot in the head or stabbed could not be confirmed. She was reinterred for the last time.
A planned, "rational" suicide would have made it impossible for the Catholic Church to grant funeral rites and burial for Rudolf. The Vatican eventually granted a special dispensation declaring that he had been in a state of "mental imbalance." As a result, he is still buried in the Church of the Capuchins in Vienna. However, the dossier on the investigations were not deposited in the state archives, as was the usual.
Many years later, letters written by Mary to her mother and other family members were found in a safe deposit box in an Austrian bank. Until their discovery, these letters were thought to be lost. They had been written at Mayerling, and clearly stated that Mary and Rudolf were planning to commit suicide in an act of "love." The Austrian National Library issued copies of these letters in July 2015.
Please forgive me for what I've done/ I could not resist love/ In accordance with Him, I want to be buried next to Him in the Cemetery of Alland/ I am happier in death than life ~ a letter from Mary to her mother
As the only son of Emperor Franz Joseph, Rudolf's death created a dynastic crisis for the Austro-Hungarian Empire. The line of succession fell to the emperor's brother, Karl Ludwig. When he died prematurely, the succession rights passed to his son, Archduke Franz Ferdinand–yes, that one. Upon Franz's assassination, his nephew Karl became the heir-presumptive and eventually Emperor Charles I in 1916–the last ruler of the Austro-Hungarian Empire.
Rudolf was known to be more liberal than his father, and so his death allowed for the pursuit of more conservative policies in the Empire. This includes the annexation of Bosnia and Herzegovina in 1908 from the once-great Ottoman Empire. This prompted a "Bosnian crisis" that divided loyalties and interests in Europe and provided kindling for later war. The Balkans was an area of great international tension, including with the Russian Empire. The annexation was also a source of protest among Serbian nationalists, who believed that the territories should have instead become part of an independent Serbian nation. The events that followed the annexation prompts one to wonder how things may have been different had Rudolf lived.
Archduke Franz Ferdinand, now the heir to the empire, traveled to Sarajevo, Bosnia and Herzegovina, in June 1914 to conduct inspections of the Austro-Hungarian Empire's armed forces there. This did not sit well with the Serbian nationalists who objected to the empire's control over these territories. The date of Franz's visit, June 28, was also the anniversary of the First Battle of Kosovo, a significant date for Serbia. Thus, Austria's show of imperial strength in Bosnia was offensive on multiple levels.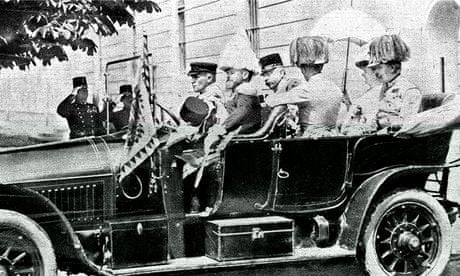 19-year-old Gavrilo Princip fatally shot Franz and his wife, Sophie, as they passed by in an open car. Princip was a Bosnian Serb and a member of the pro-Serbian secret society, the Black Hand. As a result, Austria-Hungary declared war on Serbia. Almost every country in Europe was entangled in some alliance or another, and the continent fell into war like a series of dominoes.
After four years and 38 million deaths, an armistice was reached on Nov. 11, 1918. That same day, Emperor Charles I issued a proclamation that recognized the Austrian people's right to determine their form of state. He never used the word "abdicate," but he declared that he would "relinquish every participation in the administration of the State." He was secretly hoping that the citizenry would vote him back into power, but they evidently called his bluff. The very next day, the independent Republic of German-Austria was proclaimed. A proclamation of the Hungarian Democratic Republic followed on Nov. 16. The great Austro-Hungarian Empire was no more.
[cue a totally inappropriate performance of Taylor Swift's "We Are Never Ever Getting Back Together"]
Life lesson: Don't cheat on your wife with 17-year-old baronesses, because you will die and cause a world war.