A lot of the time, I am proud to be an introvert. I've learned a lot about personality types, introversion, and myself in the last few years, and it has been enormously helpful in many aspects of my life.  But that doesn't mean I am 100% content with myself 100% of the time. Sometimes I hate being an introvert.
These are some of those times.
1.  Meeting someone when I'm in a friendlier mood, making them think that "upbeat extrovert" is my default; conversely, when people who know me as quiet are shocked—SHOCKED, I SAY!!!—when I crack a joke
2.  Getting tired of being around someone before I'm tired of being around someone
3.  Trying to get to know other introverts
4.  Morning people
5.  Class participation (or group projects)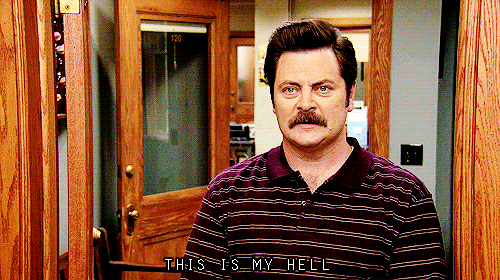 6.  Being encouraged to come "out of your shell"
7.  Holidays—I'm looking at you, St. Patrick's Day and Halloween—that pressure you to celebrate with drunken out-on-the-town revelry (or to celebrate at all)
8.  The following conversation:
Not Me: "WHAT'CHA' READIN'?"
Me: *Shows cover of book, hoping person gets the hint*
Not Me: "Oh. IS IT GOOD?"
(No, I'm forcing myself to read it out of penance.)
9.  Taking a little longer to process thoughts, making some people think you're stupid and slow-witted
10.  When people take your silence as encouragement to keep talking and don't give you space in the conversation
Got more? Share here!